Features
---
When you live at UnionWest, you're only steps away from your downtown classes, internships and professional opportunities along with all of the dining, entertainment and culture Downtown Orlando has to offer. You'll get the chance to make lifelong friends and career connections, attend activities on campus, and live in an environment that supports personal, academic and professional growth.
---
In Your Unit: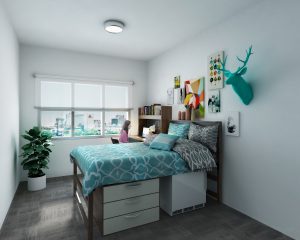 It's all here
Sleek, contemporary furniture and finishes
Some units include furnished living rooms
Personal mini fridge for each resident
Skyline views of Orlando in most units
Private and shared bedrooms available
All units include high-speed Wi-Fi and extended cable
Power, water, sewer and trash are included with no utility caps
---
Safety Features:

Experience the peace of mind that comes with having UCF staff support available 24/7.
Key card access required throughout the building
On-site security personnel
Six-story, in-building parking garage with optional private parking available for residents
On-call staff for 24/7 emergency maintenance and lockouts
Separate residential elevators, providing additional security
Secure indoor bike storage
---
All in One Building: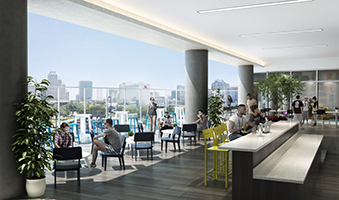 The Collaborative
The Collaborative, located on the 6th floor, is a resident-only club room with lounge and study areas, gaming/media center, community activities and a sky deck overlooking Downtown Orlando and Creative Village Central Park.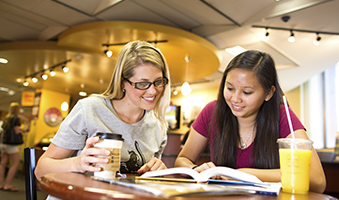 Restaurants
Don't feel like cooking? The first floor of UnionWest will include several restaurants. Quick service food options will be waiting downstairs to help with study breaks and on-the-go meals.
Learn about the retailers coming to UnionWest here.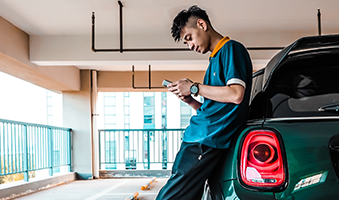 Reserved Private Parking
Residents of UnionWest have the opportunity to reserve assigned, 24-hour parking spaces in the privately-managed UnionWest garage, which is attached to the building. The resident rate for a space is $110 per month, below market for the downtown area. Parking reservations will be taken on a "first come" basis.  To reserve a spot, please e-mail UnionWest@platinumparking.us. For more information about parking at UnionWest, please click here.
Recreation and Wellness Center
The UCF Downtown Recreation and Wellness Center is located on the second floor in UnionWest, just downstairs from the residential floors. The 7,900 square foot facility includes a multipurpose fitness studio, cardio machines, weight equipment and added functional fitness space. Services include personal training, group exercise and fitness assessments. Students also have access to wellness services including stress management, biofeedback, nutrition and more. Learn more about the Downtown Recreation and Wellness Center here.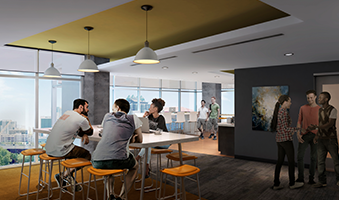 Gathering Areas
Each residential floor includes a gathering area. This space includes a full kitchen with all the appliances and spaces needed to create your favorite culinary masterpieces. You can also hang out with friends and host study groups in the large seating areas. Laundry rooms are located at the gathering spaces on each floor, making it easy to multitask.
Valencia College School of Culinary Arts and Hospitality
The Valencia College School of Culinary Arts and Hospitality is located on the lower floors of UnionWest and features specialized culinary facilities. Residents may choose to be part of a Living Learning Community for this program.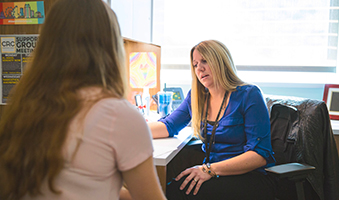 Student Services
Never leave your building to see an academic advisor, make a payment or discuss financial aid options. Student services for UCF Downtown are located on the first and second floors of UnionWest, making life just that much more convenient. UnionWest also has classroom spaces, so your morning class or group meeting may be a quick elevator ride away.